Hello blog readers, I'm sorry I accused you of not existing. You're lovely. I am on the train from Edinburgh to Fort William. The scenery is stunning, and once again I am thinking of staying in Scotland. It's so rugged and diverse. So maybe I'll stay here, but not in Edinburgh, although I'll have to make at least monthly trips to Edin to climb Arthur's seat. It's magical, and I love the wind in my hair to the point it looks like the victim of electrocution.
I woke up with a fierce hangover this morning…holy crap I'm not going to talk about my hangover the view out of the window is…wow…I keep thinking I'll see Catherine and Heathcliff running past. The man sitting in front of me has taken a photo of every. single. tree. since we left Edinburgh; killing the magic with each click.
A friend came to stay for a couple of days and it has cheered me up. It was nice to have someone to talk to and go to a comedy show with, someone to push me down a hill and to watch rabbits running around at 3am with. Yeah, we're normal. Wait, who wants to be described as normal, really? I'd rather be described as a bit strange than 'normal'. A normal person would probably know where she's going to sleep tomorrow night.
So of the ideas I was playing with, the pub one is the most appealing right now; I'm imaginging myself in a tiny, isolated Scottish village working in a quaint inn serving pints. In an hour or so I might be thinking of Spain, tomorrow it'll probably be the gypsy thing. Well, to be fair I feel like I'm practically there; take away my laptop and ipod and I'm pretty much gypsyfied, actually gypsies probably have cleaner clothes than me. Wow….wowww..okay I'm going to go and gape out the window now.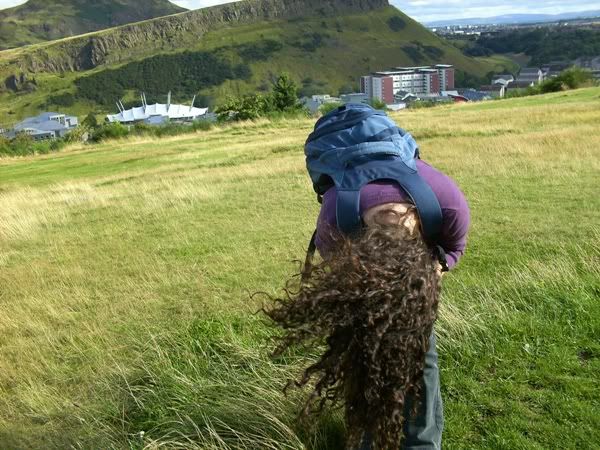 Yeah...that's me. Arthur's seat in the background!